CyberSIGMA is the new business unit of Sigma Consulting which covers also specialised advanced cyber security solutions
Download Ebook: "FONDAMENTI DI CYBER SECURITY PER TUTTI"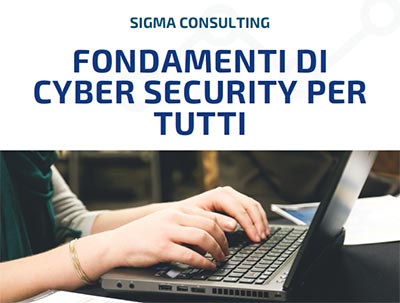 CYBER SECURITY PER PMI E LIBERI PROFESSIONISTI AL TEMPO DEL CORONAVIRUS/ COVID19
La Problematica
Maggiore utilizzo e dipendenza da reti digitali
Impatto di un attacco cyber
Smart working
Phishing
Why do you need cyber securıty?
The digitalization and the improved connectivity brought several benefits in operational terms and at the same time, the need to face new information security challenges.
IoT applications and the work habit changing, above all the one linked to the BYOD paradigm (Bring Your Own Device) and dependence on cloud applications, have increased the attack surface.
INTRODUZIONE ALLA CYBER SECURITY
La Problematica
DIGITALIZZAZIONE
CONNETTIVITÀ
CYBERSECURITY= EMERGENZA
1. Mobile devices
2. Data in cloud
3. User Behavior
Top 3 vector of Cyber Attack
1. Social Engineering (e.g. Phishing)
2. Insider Threats
3. Known vulnerabilities & misconfigurations
Contact us for more information about our services or to receive a quote
Office
Via Adriano Olivetti, 24/26
00131 Roma RM
Hours
M-F: 9am – 6pm
S-S: Closed
Call us
(+39) 346 611 5373
(+39) 06 8772 5590